Homeowners Insurance Explained: The Big 6 Coverages and How They Work
August 17th, 2023 | 9 min. read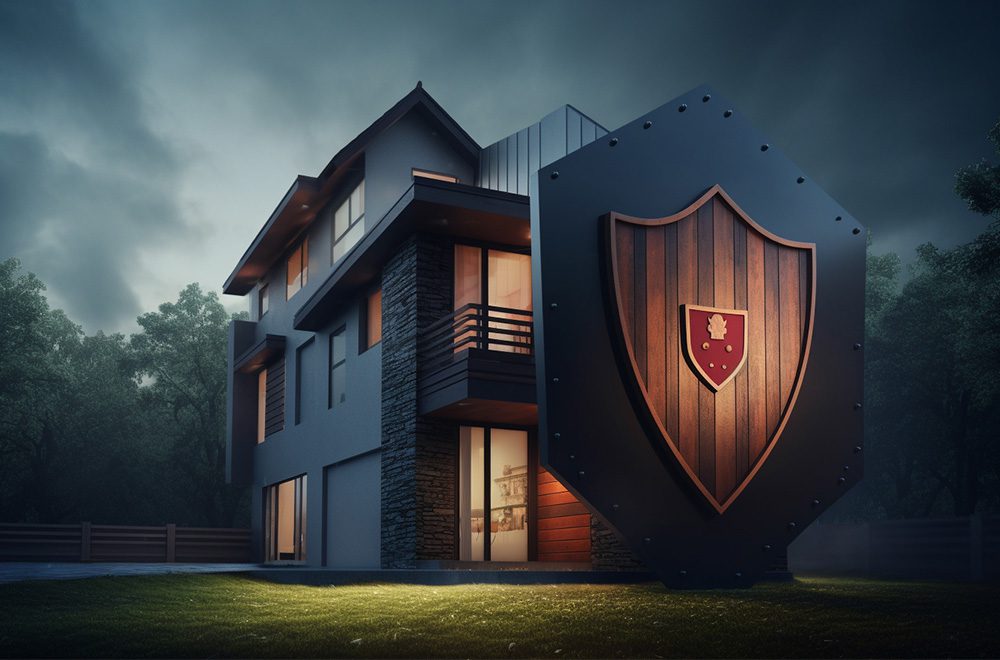 If you're like most people, you probably dread the thought of having to deal with insurance. You may feel confused by the different types of policies, overwhelmed by the paperwork, or frustrated by the high premiums. You may wonder if you're getting the best coverage for your needs or if you're paying too much for something you don't really understand.
But insurance doesn't have to be a hassle. In fact, it can be a smart and simple way to protect yourself and your loved ones from unexpected risks and expenses.
Horan is an independent insurance agency serving the CNY region. Over the years, we've helped many people like you find the right insurance solutions for their unique situations.
In this article, you'll learn what homeowners insurance is and what it typically covers. We'll also explore the common perils that can damage or destroy your home and belongings and how to address the limits and exclusions of your homeowners policy.
The Big 6: Essential Components of Homeowners Insurance Coverage
Homeowners insurance, or hazard insurance, protects you from various risks and losses related to your home and personal property. But what exactly does it cover? How much coverage do you need? And what are the benefits of each type of coverage?
To answer these questions, you need to understand the six specific sections of insurance protection that are included in every homeowners insurance policy written in New York State. These are:
The Dwelling/Residence: This covers the cost of repairing or rebuilding your home and its attached structures if they're damaged by a covered peril. A peril is an event or occurrence that causes damage or loss to your home and its contents. Examples include a fire or a burglary.
Other Structures: This covers the cost of repairing or replacing any detached structures on your property, such as a shed or a fence, if they're damaged by a covered peril, but at a lower amount than your home.
Personal Property: This covers the cost of replacing or repairing your personal belongings, such as furniture or jewelry, if those items are stolen or damaged by a covered peril, but with some limits and exclusions.
Loss of Use: This covers the extra expenses you incur if you have to live elsewhere temporarily due to a covered loss to your home, such as hotel bills or restaurant meals, up to a certain time and amount limit.
Personal Liability: This covers your legal liability if you or your household members cause injury or damage to someone else, either on your property or elsewhere. It also pays for their medical bills, legal fees, and settlements.
Medical Payments to Others: This covers the medical expenses of guests injured on your property or by your activities, no matter who is at fault, without the need for a lawsuit or legal proceeding.
These six sections are commonly referred to as the "Big 6" because they're essential for protecting your home and personal assets. They appear on the declarations page of your policy (the first few pages that show your name and the amounts of coverage you have).
However, these sections don't tell you everything you need to know about your homeowners insurance coverage. There are many details, exclusions, and endorsements that can affect your coverage and claims. That's why it's important to read your policy carefully and consult with your insurance agent if you have any questions or concerns.
But let's look at these six coverages in greater detail.
The Dwelling or Residence Coverage
This coverage protects your home and its essential components from damage by a covered peril, such as fire. It's listed as Coverage A – Dwelling (or sometimes residence) on your declarations page. It covers the cost of repairing or rebuilding your home if it's damaged.
The dwelling coverage includes many important parts of your home, such as the roof, walls, flooring, cabinets, electrical system, and more. It also covers the major systems and appliances in your home, such as the heating and cooling system, water heater, plumbing, and built-in appliances.
Are Non-Living Spaces Covered By My Home Policy Too?
Yes, they are! The dwelling coverage also applies to any attached structures on your property, such as the basement, porch, patio, garage, or solar panels. These are considered part of your home and are covered by the same amount.
Your dwelling coverage is vital for restoring your home after a fire or other loss.
How Much Dwelling Coverage Do I Need?
To determine the right amount of coverage, you need to know the replacement cost of your home. This is how much it would cost to rebuild your home from scratch with similar materials and quality.
Your insurance agent can help you estimate the replacement cost using industry tools that factor in inflation and location. You need to provide accurate and detailed information about your home to get the best estimate.
Other Structures Coverage
This coverage protects any detached structures on your property, such as a shed, a fence, a pool, or a barn. It's listed as Coverage B on your declarations page. To qualify for this coverage, the structures must be on the same property as your home.
Some common examples are:
Detached (freestanding) garage or carport
Shed
Swimming Pool
Fence
Barn
Greenhouse
Gazebo
The value of these structures is not easy to calculate. You get a percentage of the amount that covers your home, usually 10%. For instance, if your home is covered for $150,000, you get $15,000 (10%) for other structures. This is the minimum amount that the insurance company offers.
What If I Need More or Less Other Structure Coverage?
If you have many or expensive structures on your property, you may need more than 10% to replace them. Some insurance companies give you more, up to 40%, at no extra cost. But if that's still not enough, you can buy more coverage. It will cost you more, but it's an option. Talk to your insurance agent about the details and costs of your other structures.
What if you don't have any other structures on your property? You may think that this coverage is useless for you. But you can't remove it or save money by doing so. The cost of this coverage is included in the policy. You can think of it as a bonus in case you ever need it.
Personal Property Coverage
This coverage protects your belongings inside your home and other structures, such as clothes, furniture, appliances, and electronics. It's listed as Coverage C on your declarations page. It covers the cost of replacing or repairing your belongings if they're stolen or damaged by a covered peril.
The amount of personal property coverage on your policy is a percentage of your home's value, usually at least 50%. For example, if your home is covered for $150,000, you get $75,000 (50%) for your belongings.
Some insurance companies give you more than 50%, but it varies. Most homeowners find the standard amount enough, but you can buy more coverage for a fee. You can't reduce the standard amount or save money by doing so.
How Does the Insurance Company Value My Belongings?
Your belongings may be old and used, but you still want to keep them. If they're destroyed by a fire, you'll have to replace them. Your insurance company will use one of two methods to value your belongings: replacement cost coverage or actual cash value (ACV).
If your insurance company uses ACV, you may not get enough money to replace your belongings. The ACV method considers the age and condition of your belongings and reduces their value accordingly.
For instance, a laser jet printer you bought for $500 in 2012 when it was state of the art may only have an ACV of $60 today. That may not matter much for one item, but what if all your belongings are valued that way?
If you don't like that idea, you'll want replacement cost coverage. The replacement cost method considers the cost of buying a new item that is similar to your damaged one. It doesn't matter how old or worn out your belongings are; you'll get enough money to replace them with new ones.
Of course, you can't upgrade to a better item than what you had before. Your insurance company won't replace your laser jet printer with a 3D printer.
For a deeper dive into this topic, read our article that discusses the difference between replacement cost and ACV.
What Coverage Does a Home Policy Offer for Special Items Like Collectibles or Jewelry?
Some items that you own aren't covered like other items or have limited coverage. These include:
Collectibles, such as stamps, baseball cards, and artwork. These items can have changing values that are hard to determine. Your policy may only cover them for $500 to $1,500.
Jewelry, such as wedding rings, diamond earrings, or watches. These items are also limited to a low amount of coverage, usually $1,500 to $2,500. Your policy also doesn't cover them for theft or misplacement, which are common ways to lose them.
You can fix this problem by "scheduling" these items, which we explain in detail in "Scheduled Personal Property: Insuring Your Most Valuable Things."
Loss of Use Coverage
If your house burns down, you'll need to live someplace else for a while. Enter loss of use coverage, located on your declarations page under Coverage D. This part of your home insurance policy provides reimbursement for extra expenses you incur from having to live elsewhere.
During the rebuilding, you'll encounter new expenses. You'll be dining out more, renting a temporary home, or storing things that might have survived the fire. Your home policy has coverage for those kinds of costs.
The amount of coverage can be listed in one of two ways, by dollar amount or by time. It'll be a minimum of twenty percent of your home value if it's a dollar amount. If it's a timeframe, typically twelve months, then it's how much you need until your time runs out.
There are arguments about which way is better, but we've yet to see anyone run out of money or time.
Does Loss of Use Pay For All My Bills?
No, loss of use will not pay for everything. Nor will it provide compensation for meals at the highest-rated restaurants in Skaneateles. It only pays for the extra costs you encounter because of the loss.
You're still responsible for your mortgage payment, property taxes, homeowner's insurance (ahem), and all other household costs you would have had if the fire had never happened.
Personal Liability Coverage
This coverage protects you from legal responsibility if you or someone in your household cause injury or damage to someone else, either on your property or elsewhere. It's listed as Coverage E on your declarations page.
If someone sues you for causing them harm, your insurance company will use your liability coverage to pay for your legal fees and any settlements or judgments against you. Your policy covers all "insureds" in your home, which you can learn more by reading "Is Everyone Who Lives in Or Visits Your Home Covered?"
The minimum amount of liability coverage in New York is $100,000 per occurrence. This doesn't include your legal expenses, which are paid separately by your insurance company. You can increase this amount if you want more protection.
What Are Some Common Ways That People Get Injured?
There are many ways that people can get hurt on your property or by your activities. Some of the most common ones are:
Dog bite
Slip and fall on ice
Trampoline accident
Falling down the stairs
Swimming pool accident
Horseplay
Intoxicated guests
What if the Person Who Got Hurt Was Not Invited or Was Trespassing?
You're still liable for the injuries of others, even if they weren't your guests or were on your property without permission. For example, you could be sued if:
A child gets injured while running across your lawn
A delivery driver gets bitten by your dog
Your daughter's boyfriend loses an eye while throwing rocks at her window
How Can I Get More Liability Coverage?
You may be worried about the risks of personal liability. Don't panic. You can buy more coverage, and we recommend that you do. Many insurance companies offer up to one million dollars for personal liability. The extra cost is small and worth it if you ever face a lawsuit.
Medical Payments to Others
This is the last of the big 6. This coverage pays for minor injuries that happen on your property or by your activities without a lawsuit. It's listed as Coverage F on your declarations page. The minimum amount of coverage in New York is $1,000.
This coverage is different from personal liability coverage in two ways.
First, the injured person doesn't have to sue you to get paid.
Second, the coverage only applies to expenses that happen within 36 months of the
accident.
We like to call this coverage "don't sue me money." It's easier to pay for a small medical bill with this coverage than to deal with a lawsuit. Most insurance companies act quickly as they also want to avoid a lawsuit.
You can also increase this coverage for a low cost. Most insurers offer up to $5,000, and some offer more. We recommend that you get as much as you can.
Homeowners Insurance Offers a Lot of Protection. It Must Be Very Expensive, Right?
Wrong. Homeowners insurance is a great bargain when you think about all the potential costs it can cover. The big six can add up to more than one million dollars in total coverage. The average homeowners insurance policy costs only about $800 per year, which is a steal.
If you've ever had a big claim, you know what we mean.
Stay Protected By Getting the Right Policy for Your Home
So that's the big 6 of homeowners insurance coverage and how they can protect your home and personal assets. Homeowners insurance is more than just a legal requirement or a mortgage condition. It's a way of securing your peace of mind and financial stability in case of a disaster.
By knowing what each coverage section does, how much coverage you need, and what options you have, you can make informed decisions about your policy and avoid unpleasant surprises. You can also save money by comparing quotes from different insurance companies and taking advantage of discounts and endorsements.
Don't underestimate the importance of having adequate homeowners insurance coverage. You never know when a fire, a storm, a theft, or an accident can happen and ruin your home and belongings. You also never know when someone can sue you for causing them harm and put your assets at risk.
Without proper coverage, you could face huge losses and debts that could affect your future.
Homeowners insurance is an investment in your security and happiness. By following the advice in this article, you can get the best coverage for your needs and budget. You can also enjoy your home and your life without worrying about the unexpected. That's priceless.
At Horan, we know that insurance is not a one-size-fits-all product. That's why we take the time to get to know you and your goals and then tailor a plan that suits your budget and lifestyle.
We work with a network of trusted and reputable insurance carriers, so we can offer you a wide range of options and competitive rates. And we're always here to answer your questions, handle your claims, and provide you with ongoing support and guidance.
To get the coverage you need for your home, click the Get a Quote button below, and one of our insurance specialists will reach out to discuss your needs and policy options.
You can customize your home insurance with extra coverages. Find out more about these options in "The Top 5 Riders You Need for Your Homeowner's Insurance Policy." For a general guide to home insurance, check out "How to Get Homeowners Insurance."
Daniel is an accomplished content creator. He has been working in publishing for almost two decades. Horan Companies hired Daniel as its content manager in November 2022. The agency entrusted its messaging to him. Since then, Daniel has written insurance articles, service and pillar pages, and more. All in an effort to educate CNY readers. He's helping them understand the world of insurance so they can make informed decisions.